ALTA Survey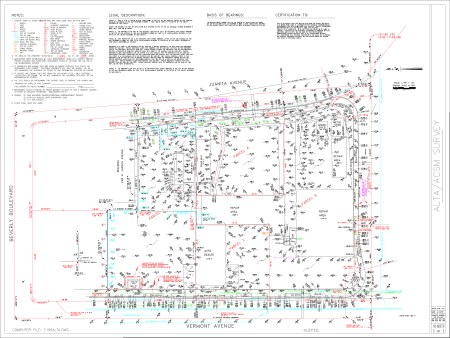 The ALTA/ACSM Land Title Survey, more commonly called "Alta" survey, is a survey performed to standards jointly adopted by the American Land Title Association (ALTA) and the American Congress on Surveying and Mapping (ACSM). The most current version of these standards is the 2011 set of requirements. These standards can be found online at www.acsm.net.
When is an ALTA survey required? Every owner's title policy contains five standard exceptions:
Rights or claims of parties in possession not shown by public record.
Encroachments, overlaps, boundary line disputes, or other matters that would be disclosed by an accurate survey and inspection of the premises.
Easements, or claims of easements, not shown by public record.
Any lien, or right to a lien, for services, labor, or material heretofore or hereafter furnished, imposed by law and not shown by public records.
Taxes or special assessments that are not shown as existing liens by the public records.
When a title company is given the proper documentation, it can waive these five exceptions. This is called giving "extended coverage" to the owner's title policy. Matters disclosed by the survey will be shown as special exceptions to any title policy issued.
Even though ALTA surveys are becoming more common for residential properties, usually they are required for insuring large and expensive commercial, industrial, and even vacant and multi-family properties. The reason for this is that ALTA/ACSM Land Title Survey standards are much more detailed and specific than normal state standards.
Example Alta Survey
---
Call for free estimate at (310) 447-5603 • © 2011 John S. Henderson