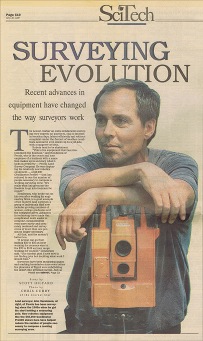 Serving Los Angeles Homeowners
A majority of my surveying business has been providing services to my homeowner and contractor clients. I understand the importance of my residential based clients as their project needs are unique. Residential projects tend to be more time sensitive, service oriented and cost efficient. In these type of projects I work closely with the homeowner, architect and contractor to ensure their project needs are met.
About John
I started surveying in 1974 as a rodman/chainman for the county highway department. After four years of experience I became a crew chief, and in 1986 I became licensed as a land surveyor in the State of Illinois. In 1987 I became the manager of the survey department of one of the largest multi-disciplined engineering firms in the country. I was managing up to ten survey crews spread across the Midwest and Eastern United States. As a survey manager I learned many things. I would see a project enter the office, get passed around, depending on the priorities of the day, ultimately accumulating steep fees to be passed on to the client. Also I would get calls from clients asking specifics about the site that I couldn't honestly answer because I had never personally set foot on the property. In 1996 I went into business for myself with many valuable skills and a knowledge of what not to do. In 2004, I moved my business to Los Angeles, teaming up with Ray Scott of R.S. Engineering, who has been in business here since the mid seventies. Ray is a master CAD draftsman and licensed in California as an engineer and land surveyor. Ray's knowledge and experience in dealing with local municipalities is unsurpassed. Together we provide the client with the highest quality, most affordable product from field to finish.

---
Call for free estimate at (310) 447-5603 • © 2011 John S. Henderson